Providing comfort and creating
a better future for 125+ years
History of Gunze Limited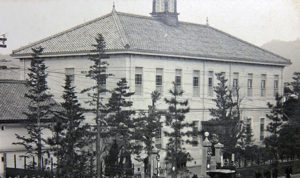 From the earliest days of Gunze Limited in 1896, founder Tsurukichi Hatano was committed to not only manufacturing the finest raw silk yarn, but revitalizing the local silk industry and making meaningful contributions to the community. He believed "good people make good silk yarn, and trustworthy people make trustworthy products." He also sought to collaborate with industry experts to produce the best results.
As the focus shifted from raw silk yarn to apparel after World War II, Gunze management established three basic principles that would serve as the foundation for growth: 1) quality first, 2) coexistence and co-prosperity, and 3) an integrated production system.
Innovations in the second half of the 20th century included knitted innerwear, legwear, casual wear, synthetic industrial sewing threads, and a number of Gunze proprietary technologies, including plastic film, engineering plastics, electronic components, mechatronics, and bioabsorbable medical materials. After more than a century of developing innovative solutions, Hatano's founding philosophy still rings true today.
"Striving for harmonious coexistence with all stakeholders surrounding the company through a people-oriented approach and a commitment to quality."
Read the full story of Gunze's rich history, philosophy, and evolution here.
History of the Gunze Medical Division
Gunze began its journey in the medical field in 1980. Like the founding of Gunze Limited in 1896, fabrics took center stage. After developing Japan's first bioabsorbable suture in collaboration with researchers from Kyoto University in 1983, biomedical materials were permanently woven into the fabric of Gunze, literally and figuratively.
The Medical R&D Center was established in 1985, followed by the Medical Materials Center in 1988. This led to the development of new bioabsorbable products, such as NEOVEIL® suture- and staple-line reinforcement, the NEOFIXTM bone fixation device, and the PELNAC® artificial dermis, which is now sold as a wound dressing in the U.S. under the TheraGenesis® brand.
The Medical Materials Center was changed to the Medical Division in 2010, leading to another wave of new product launches, such as the SEAMDURATM bioabsorbable dura substitute and the LEG SCIENCETM medical stocking, as well as ongoing research with top universities.
Today, the healthcare and medical field is expected to drive Gunze's growth. R&D cross-border and cross-functional efforts are focused on discovering new applications for bioabsorbable materials and other products. Through collaboration with other divisions such as apparel, we are able to expand our "medical care through wear" to comfortable clothing.
See a full timeline of Gunze Medical Division milestones, product launches, and achievements here.